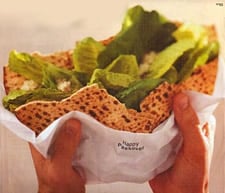 You are invited to join a unique "Unlocking Passover"series that will help you enjoy a deeper dimension to Passover this year. Together we will discuss and discover the history, meaning, and mystical meaning of Passover & the Seder while making it relevant, meaningful, and enjoyable.
Looking to make your Passover Seder more meaningful?
Want to give a different twist?
Trying to draw in the kids and the guests a little more?
Then this class is for you!
Model Seder & Refreshments and Texts

Thursday Evening March 29th & Tuesday evening April 3rd 7:30pm - 9:00pm 
Chabad Center of Sudbury
22 Union Ave #9 Sudbury, MA 01776 

Please RSVP by emailing us at [email protected] or calling 978-443-0110

Feel free to email in your questions before the class....