Thank you to everyone who joined us at the many Sukkot Celebrations we hosted over the last few days. It started on Sunday evening as dozens joined us for a beautiful and memorable Sukkot Dinner under the stars and then the fun continued throughout Sukkot and especially on Wednesday and Thursdaywhen we had multiple great events each day.
Some of the events were geared specifically to teens with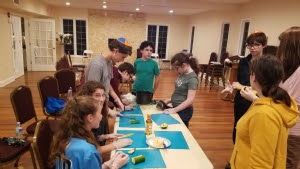 the CTeen Kickoff Event, young children with the Sukkot Story Hour, older children with the Sports & BBQ at the Sukkah and adults with the Sushi in the Sukkah.
All the events were enjoyed by lots of happy people and families and it was a truly great way to start off the new year.
Thank you to Dr Sasha & Angela Litovchick & Mr. Jacques & Sharon Cohen Families for providing generous sponsorship towards some of the events.
You can see lots of pictures of all the events in the links below.
Cteen Event Photos
Sukkot Story Hour Photos
Sports & BBQ at the Sukkah Photos
Sushi in the Sukkah Photos
Of course we have services and a Kiddush tomorrow in the Sukkah and a fun day of Hebrew School coming up, but next week we will have the grand finale of the holiday season with a big Celebration and Deli Dinner on Monday evening as we celebrate Simchat Torah. Join us for an evening of fun, dancing, food, Hakafot with the Torah and lots more. Join us for the whole evening or stop by for fifteen minutes. You can read more info about this event below.
With best wishes for a joyous last few days of the holidays & a Shabbat Shalom