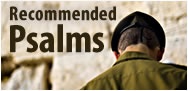 Like so many of you, I have been extremely disturbed by the news out of Israel over the last two days. Once again Israel finds itself under attack, this time with hundreds of missiles raining down on central & southern Israel. Millions of Israelis in cities like Jerusalem, Tel Aviv, BeerSheva & all the residents of the South have been fleeing to the Air Raid Shelters when the sirens go off time and time again/
Today I have been in contact with my cousins, aunt & uncles, friends, and no less than 3 families from Sudbury who are currently visiting Israel, some of them for the very first time. This is not fun for Israel and it is being dragged into a defensive war that it wishes it did not have to do.
We live here, many thousands of miles away from the Holy Land. Physically there is not so much we can do, although we could help out Israel in the media and social media. However it would seem that our ability to help ends right there. Yet in truth as People of the Book, we believe in the power of Prayer & Mitzvot and throughout history our brethren have always responded to challenges like this with an increase in good deeds, charitable acts, Mitzvot & Prayers.
A mitzvah, a G‑dly deed, has the power to reach deep into the core of our being—where we are all one, and the physical distance between us is of no consequence. At this core, a positive deed on our part will help bring salvation to a brother and sister in distress.
During past conflicts in the Land of Israel, and during times of danger for the Jewish people, the Lubavitcher Rebbe made practical suggestions of mitzvot that have traditionally served as conduits for extra blessings & merits during times like this.
Let us not underestimate the power of good! With a single good deed on our part, here and now, we each can contribute toward the safety and security of our brethren in Israel.
Take a minute to do one or more of the following. You can make a difference!
Torah study (suggestion: our Daily Study page contains selections from the Torah)

Say a prayer for the safety of the soldiers of the IDF, and for all residents of the Holy Land (suggestion: Psalms 20, 22, 69 and 150 are traditionally said in times of distress).

Charity and acts of kindness: Put a coin in a charity box, give a gift of money to a fellow in need or to a charitable cause, or extend a helping hand to someone who needs it.

Tefillin: If you already put on tefillin every day, encourage a friend to do so. If you don't yet, now is a good time to start! Click here to find out how to put this important mitzvah into practice, or contact me to meet up and do it together.

I hope that this is over quickly and peace and security return to Israel and all of the innocent people caught up in this conflict.

Yisroel

Rabbi Yisroel Freeman