What a joyous and meaningful Passover it has been so far!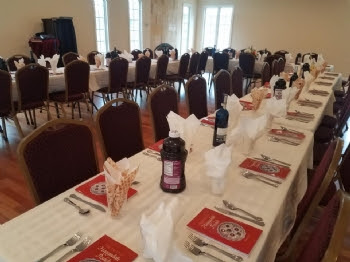 Thank you to the dozens of guests who graced at our Seder Tables and thank you to the dozens who have been coming over the course of Passover to our daily services. Chabad of Sudbury was also able to put on several Passover programs at local senior homes like the Wingate & Orchard Hill to bring the joy of Passover to the residents.
On a personal note, having my parents and two of my siblings and their families to celebrate Passover with has made it extra enjoyable and meaningful on many levels.
We will conclude Passover with the final two days of the Holiday beginning this evening and continuing tomorrow and Saturday with services from 10am - 12pm and with the Yizkor Memorial Service on Saturday at 11:30am. In addition we will conclude Passover with a joyous closing meal which is known as Seudat Moshiach at 7pm on Saturday, to which all are invited.
I would like to take the opportunity to give a special thank you to our all of our Passover sponsors as well as everyone else who made a Passover donation.
Gold Sponsors
Arieh & Helen Freeman
Charles & Jill Katz
Silver Sponsors
Dr. Peter & Hadassa Kubat
Keith & Stephanie Meyer
Merkos LeInyonei Chinuch

Bronze Sponsors
Kerry & Judy Weinstein
Mr. & Mrs. Ari Brown
Friend Sponsors
Mendy & Sara Aidel Grifkin
Dan & Natlya Perlov
Carl & Carol Chudnofsky
Burt & Elaine Marmer
Debra Hershon
Mr. & Mrs Amir Ben-Ishay
Mr. & Mrs David & Sharyn Gilfix
Galina Zoltusky & Boris Klebanov
Noel & Daniela Raphael
Best wishes joyous and meaningful final days of Passover.
Chag Sameach!