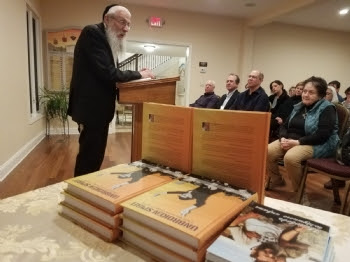 It is not every day that you meet someone who stared down a Death Sentence, spent 11 years in the Gulag and kept up his Jewish pride and positive attitude throughout. Thank you Rav Yosef Mendelevich for an incredibly inspiring evening last night and for all your perseverance on behalf of Soviet Jewry and world Jewry in all the years since then.
Another beautiful dimension of last night, was that besides the speaker, we had multiple Jewish Americans who had been very active on behalf of Soviet Jewry back in the 70's at the same time that his trial was going on, and we also Jewish people who were originally from Russia who shared their memories of this incident and the impact that it had on them. One lady told of the tension in the Jewish community as they realized that these people would all be executed and of exactly where she was when she heard the joyous news that the Death Sentences had been canceled and her feelings at the time.
Thank you to our Sponsors for helping make the evening possible.
Noel & Daniela Raphael
Peter & Nora Rozen
Harvey Alford
Galina Zolutsky & Boris Klebanov
David & Penny Hurwitz
Dr. Esther & Uri Blank
Thank you also to Ed & Robin Brookmyer for all their help and time that they put into helping make this event a success!
Am Yisroel Chai!
You can see more pictures of the event over here.
If you would like to order his book, let me know and I can put you in touch with him.
May the pride and courage of people like Yosef Mendelevich be a source of inspiration to all of us.
Good Shabbos