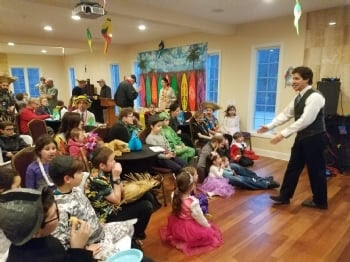 Hundreds of people attended some of the multiple exciting Purim programs and celebrations at the Chabad Center of Sudbury over the last few days. Just this week lots of ladies had a great night out on Sunday at the Hamantaschen Bake, dozens of adults enjoyed the Mentalist Show & Adult Purim Party and a huge crowd enjoyed the Purim in Hawaii Celebration last night.
In addition the Hebrew School students had lots of fun getting ready for Hebrew School this week and thanks to the extra help we had over the Holiday from some visiting Yeshiva students, many individuals and seniors had visits and four local Correctional Facilities had great Purim Programs arranged through the Aleph Organization.
You can see the pictures of these events in the links below.
Teen Pre Purim Party
Pre Purim Interactive Story Hour
Ladies Hamantaschen Bake
Mentalist & Adult Purim Party
Purim in Hawaii Celebration
Thank you to all of our Purim Sponsors for helping make all of this possible.
Kerry & Judy Weinstein - Purim Sponsors
Dr. Alexander & Angela Litovchick - Purim Sponsors
Sol & Jessica Cohen - Queen Esther Sponsors
Avi & Suzanne Finder - Queen Esther Sponsors
Dan & Natalya Perlov - Queen Esther Sponsors
Irina Dubinchik & Vadim Gayshan - Queen Esther Sponsors
Yoni Dvorkis & Vera Yanovsky - Queen Esther Sponsors
James & Annette Barnett - Shushan Sponsors
A huge thank you to all of our volunteers who helped deliver packages and setup for the events.
Let's keep the joy and message of Purim going as we move forward.
Shabbat Shalom / Good Shabbos