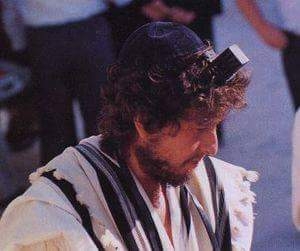 Mazal Tov to Bob Dylan on receiving the Nobel Prize for Literature, he has just become the first song writer to receive this particular Nobel Prize. Bob, was born as Robert Allen Zimmerman (Hebrew nameשבתאי זיסל בן אברהם Shabtai Zisl ben Avraham and is a proud Jew and as an aside he loves Chabad, which is also where he likes to pray on Yom Kippur.
Honestly, I don't know a whole lot about his music, but in discussions with several people and in reading up about his style, it would seem, that a lot of his music contained Poetic Lyrics with messages about life, some more obvious and some more abstract. It would seem that it was this style of music that helped him win the Nobel Prize, as the commission wrote about him "having created new poetic expressions within the great American song tradition,".
Poetic Lyrics in the Torah
Interestingly, in this week's Torah portion, we read about another set of Poetic Lyrics that are billed and written as a song and in a style unique unto themselves. It is a message that was given over by Moses on the very last day of his life and is considered so important that a part of the song was recited each week in the temple. In fact throughout history, Jews have tried to memorize this Poetic Lyrics section of the Torah so that they could recite it and inspire themselves with these words from time to time. As a child, I clearly remember the year when I learned most of this week's portion by heart and was able to read all the way to the fifth reading.
Each verse and lyric is an allusion to part of our history with a spiritual message of encouragement or sometimes reproach. There are layers and layers of beautiful commentaries that have explained the verses of this song over the course of Jewish history.
One of the first parts of it reads as follows "He found them in a desert land, and in a desolate, howling wasteland. He encompassed them and bestowed understanding upon them; He protected them as the pupil of His eye. As an eagle awakens its nest, hovering over its fledglings, it spreads its wings, taking them and carrying them on its pinions".
Some of the later parts took about the more tragic parts of Jewish history, and in the last part it talks about how things will eventually improve and end well.
While some of the readings are positive and inspiring and some are more tragic and sad, it is the subtle message of looking and learning from our past, growing and becoming stronger as a result, while looking at the larger scope of history and life, that is the underlying purpose of these words. The song reminds us that while life and history has its great moments, it also has had some very difficult moments too, like when tragedies happened or when people became immoral and corrupt. These words remind us that to handle the various moments in life, we need to look at the broader context of life and realize that everything is really part of a longer and larger story which includes ups and downs, good events and not such good events, mistakes and errors, and then corrections and improvements. By viewing life and history in this context instead of just in the now itself, this can help us bring out the good even in what are or were challenging and difficult situations, which includes correcting our mistakes and errors and even using them as opportunities for growth in the future.
Interestingly, in the current month which is when we read the portion of Haazinu, we have moments of intense prayer and reflection on actions we may have done in the past at the beginning of the month, then reconciliation and a determination to move forward on Yom Kippur, and then finally once that is done, we begin to celebrate and party once Sukkot & Simchat Torah arrive. In other words in order to fully celebrate, we first need to go through the first stages of reflection on the past, using the past to inspire us as we move forward, and then using those sentiments and decisions to celebrate life in a more deeper and enduring way.
If we only take the tough parts of life or moments within to frame our mindset, it can become a hard pill to swallow, but when we realize that each part is connected to a larger body of time and experiences, and try to improve ourselves or the situations we find ourselves in with this in mind, then we can truly appreciate and grow from each part of the journey.
Mazal Tov Bob Dylan on the Nobel Prize and if you want to know more about the Poetic Lyrics of this week's Torah portion join us tomorrow at services or click here to read more about it.