Determination Prevails Amidst Continuing Palestinian Rocket Attacks
U.S. Ambassador Dan Shapiro visits a rocket attack victim at Kaplan Hospital in Rehovot. (Photo: U.S. Embassy)
Israelis in the country's vast southern desert and along the coast are preparing for the long haul amidst a seemingly endless barrage of rocket attacks from the Gaza Strip. The Home Front Command has generally banned gatherings of 500 people, and residents are altering schedules so that they're always within range of a bomb shelter.
Nevertheless determination prevails, with people continuing to point to the relative small number of casualties as miraculous and some institutions deciding to keep their doors open throughout the crisis.
In the port city of Ashkelon, home to a number of strategic targets, Chabad-Lubavitch Rabbi Menachem Lieberman and his staff were busy bringing encouragement to the scarred populace, all while preparing for next week's opening of classes at their center's boys and girls schools.
"The Torah tells us, 'Always are the eyes of G‑d upon the Land, from the beginning of the year through the end,'" said Lieberman. "The Land of Israel is still the safest place in the world for a Jew to be."
On Wednesday, some 21 rockets and mortars exploded across the western Negev Desert, landing in Beersheba, Ashkelon, Netivot, Ofakim and elsewhere. A nine-month-old baby was hurt – but miraculously not killed – when a Grad Katyusha rocket scored a direct hit on the car in which her family was traveling. A second person, an adult, also sustained shrapnel wounds in a separate attack near Ashkelon.
By 9:00 p.m. Thursday, Palestinian terrorists had launched at least 15 rocket and mortar attacks at southern Israel, including one that damaged a building at the Erez Crossing into the Gaza Strip. With the exception of people who suffered from trauma and severe anxiety, there were no reports of physical injuries.
Rather than dwelling on the bombs raining down upon his city – Lieberman was in fact in between attacks as he spoke by phone – the rabbi instead expressed concern about how to get five pre-fab bomb shelters, at a cost of 70,000 shekels a piece, for his kindergartens.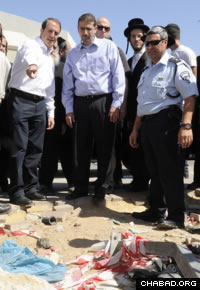 U.S. Ambassador

Dan

Shapiro, center, surveys damage from a Palestinian rocket attack in the coastal city of Ashdod. (Photo: U.S. Embassy)
"The question which is first and foremost is the security of the children," he said, adding that his primary schools, which serve a total of 1,500 boys and girls, all meet civil defense standards.
"We will have bomb and civil defense drills, just like we had in the United States when we were young," added Lieberman, a native of Chicago. "The schools are mapped off into zones, and each teacher will have a job to do. All the children will learn how to manage under attack. With that and with Torah, they will feel much safer and more in control."
Elsewhere in the region, staff and volunteers with the Chabad Terror Victims Project were continuing their work with victims from last week's coordinated attacks outside Eilat and their families.
"A broad range of immediate emergency assistance and services provided families with financial, emotional and practical assistance in the first days as they faced the moment-to-moment needs of their wounded loved ones and dealt with the shock of the violence," the organization said in a statement. "Now long-range plans are being put into place to provide for their needs going forward. CTVP will be arranging for both emergence and long-term aid for as long as needed, whether a week, a month, a year, or many years."
In Ashkelon, Lieberman saw an interesting result from an attack earlier in the day.
"This morning, we had a rocket attack at 5:15," he commented. "So we had a big attendance at 6:00 for our morning prayer services. People were very thankful that everyone was okay, and also for this most unusual of alarm clocks."
The content on this page is copyrighted by the author, publisher and/or Chabad.org, and is produced by Chabad.org. If you enjoyed this article, we encourage you to distribute it further, provided that you comply with the

copyright policy

.